High Performance Generators
Heavy duty performance providing uninterrupted operation for up to 12 hours
Extremely quiet operation
Simple to maintain – all daily maintenance tasks can be performed from one side of the machine
Exceptional reliability through innovative design and the use of diesel engines from Japan's leading engine manufacturer.
Denyo generators are designed and manufactured in order to provide full power performance and are rated on the alternator's actual capabilities.
All Denyo models consist of a Denyo alternator directly coupled to a diesel engine. The alternator and engine are set on a common skid base and special vibration isolators minimise vibration during operation.

SADIQ International supplies the Denyo super soundproof generator range, manufactured and assembled in Japan to the industry leading Japanese International Standard.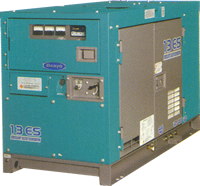 We can assist with all aspects of your generator purchase:
analyzing your power generation requirements
ordering and importing the generator
delivery and installation
after-sales service
We supply generator sets for home use right up to the size needed to power a medium-sized industrial unit (5KVA to 1000KVA).
Generators come with one-year complete warranty.
Sadiq has supplied Denyo Generators for use in:
telecommunication base stations (the CamGSM Mobitel network)
manufacturing units
orphanages & schools
offices
homes